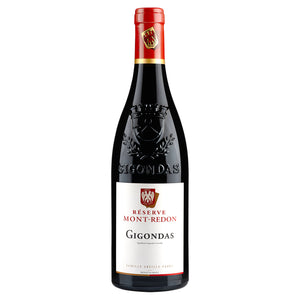 Variety:
85% Grenache, 9% Syrah and 6% Mourvèdre
Country Region: France, Southern Rhône Valley
Appellation: Gigondas


85% Grenache, 9% Syrah and 6% Mourvèdre, from 70+ year-old vines in two lieu-dits in the north of the appellation, in roughly equal proportions. Notre-Dame-des-Pallières is a south facing site at about 200m, whilst Pallière et Pied-Gu is north-facing and at 300m. The fruit from Notre-Dame-des-Pallières is fully de-stemmed, that from Pallière et Pied-Gu fermented as whole bunches and each parcel is on skins for about 25 days. Malo is completed in tank and then 60% of each parcel is transferred to 228L barriques for 16 months, before blending and bottling.
This first vintage of Gigondas by Pierre Fabre and his team at Mont-Redon is a resounding success. Top notes of garrigue and spice overlay a deliciously voluminous palate of red forest berries. The tannins are fine and silky and the wine finishes long and clean with refreshing acidity. Remarkably good now and will cellar for a decade or more.
'Dark, bright-rimmed ruby-red. Ripe red fruit, floral and exotic spice scents show sharp definition and take on garrigue and incense nuances with air. Sweet, seamless and lively on the palate, offering juicy raspberry, cherry and spicecake flavors and a subtle touch of vanilla. Clings with strong persistence on the sappy finish, which features supple tannins and a strong echo of spicy red fruit.' (91-92) points, Josh Raynolds, Vinous, February 2020.
Château Mont-Redon will be familiar to those who know and love Châteauneuf-du-Pape being well recognized as the owners of one of the most highly regarded vineyard sites in the appellation. The superb quality of its vineyards has been recognized throughout history and prior to the adaptation of the appellation controlee system it was one of the few 'Grand Crus' in the region (together with Chateau Rayas).

With almost 100 hectares under vine, the majority of Mont-Redon's vineyards are located in the appellation's most favoured area, the high plateau which is covered in the large round pudding stones that Châteauneuf is so well known for. At this high point the huge pudding ston galets lie over a rich layer of clay which retains water and keeps the earth below cool as it helps the vines resist the torrid heat of each summer. In the 1960's some limestone terroir on the western edge of the appellation was planted to white varieties which are perfectly suited to limestone and give whites of great freshness and purity. This remarkable property is in fact a single vineyard which is very unusual in Châteauneuf-du-Pape where holdings are usually quite scattered.

There has been considerable investment at Mont-Redon over the past twenty years. The entire winery has been completely renewed and is now naturally climate controlled utilising the water which lies deep below the clay plateau. From this water, cool air spills down into the winery cooling every level so that the whole winery retains a very cool temperature with natural humidity. Rows of oak barriques have replaced the old large foudres of yesteryear, and large temperature controlled stainless steel vats now line the walls, resulting in wines of freshness and finesse in both red and white wines. More recently optical sorting machines at harvest time have helped to remove any unripe or shriveled grapes as well as any vegetation resulting in great precision for every single wine.

In recent years the developments have continued at a great pace with Pierre Fabre being installed as wine-maker from 2008 and in 2017 Pierre took over management of the estate from his father and uncle. In 2017 he produced the first Gigondas from purchased fruit and in 2019 the purchase of more vineyards have been made in the southern Rhône. This remarkable estate will continue to develop apace as the potential of its great terroir is realised under the guardianship of Pierre Fabre.

Mont-Redon is clearly a candidate for not only the most improved producer and the best value producer of the Southern Rhône but now also one the very best producers in the large historic appellation of Châteauneuf-du-Pape. Mont-Redon looks destined to become one of the highest achievers of the Rhône Valley in the coming decade. Recent reviews confirm this trend.