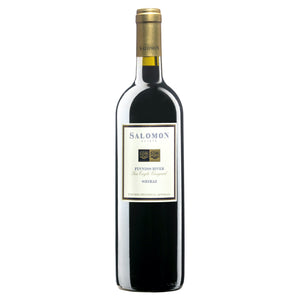 Variety: Shiraz
Country, Region: South Australia, Finniss River


100% Shiraz, matured for 18 months in 300L hogsheads (50% new), the oak substantially French, with a small proportion of American.

'Estate-grown, matured for 18 months in French barriques (33% new). The expressive black fruit aromas are no false portents, the medium-bodied palate moving unhindered across and along the palate, so much so its complexity might easily be missed. Drink by 2039.' 96 points and Red Star for Value, James Halliday, August 2019.
Bert and Gertrud Salomon are full-time travellers when it comes to wine. In Austria's Kremstal region on the Danube they manage their seventh-generation family estate, Salomon Undhof. Then once vintage is complete in the northern hemisphere, they fly south to Australia to manage Salomon Estate.
Salomon Estate was founded in 1995, originating from great ideas and passions. The first being Bert and Gertrud's love for the landscape around the Finniss River vineyard. Second, their enjoyment of great red wines and last but not least the enthusiasm they both have for diverse cultures.
The wines here are produced off a single property located on the Finniss River, about 20km southeast of McLaren Vale, where the Adelaide Hills run into the Fleurieu Peninsula. The soils are typically gravel and sand over red and orange sandstone and the vineyard falls gently away towards the northwest providing ideal exposure, warm days ensure ripe fruit flavours while the cooling breezes which roll off the Southern Ocean in the late afternoon ensure excellent acid retention. Here, Australian robustness meets European elegance in a most convincing fashion.