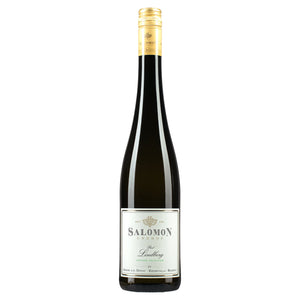 Variety: Grüner Veltliner
Country, Region: Austria, Krems
Appellation: Kremstal DAC

Lindberg is an Erste Lage classified, terraced vineyard in Krems with a due south aspect. The soil here is dominated by fine loess in the topsoil, overlaying gneiss primary rock.
100 % Grüner Veltliner from 70+ year-old vines, hand-picked in the fourth week of October, macerated for 3 hours, then whole-bunch pressed and cold-settled for 36 hours. Wild-yeast fermented for 9 weeks in stainless steel, matured over winter on fine lees and bottled in June 2022.
Alc/Vol 14.5 %; RS 5.3 g/l; TA 6.4 g/l; Stelvin.
'80yo vines face south and south-east on hard gneiss bedrock covered with calcareous, sandy loess soil. Exceptionally fine and balanced, it's only on the finish and aftertaste that the power of the variety is displayed, led by white pepper (and some luscious stone fruits). Drink to 2038.' 95 points, James Halliday, The Australian Magazine, February 2023.


'Salomon Undhof is a flagship of Austrian wine history ... White wines from some of the best Grand Cru sites along the Danube have been produced here for 230 years, including well-known vineyards such as Ried Steiner Kögl, Ried Pfaffenberg, Ried Wachtberg or Ried Lindberg. Thanks to Bert Salomon, the winery today mainly stands for excellent dry Rieslings and Grüner Veltliner - long-lasting, elegant wines for which the house is famous.' Peter Moser, Falstaff Wine Guide, October 2022.

Founded in 1792 Salomon Undhof is a wine estate with a long tradition. The Salomon family own 20 hectares of vineyards which are planted with equal amounts of Riesling and Grüner Veltliner as well as a tiny amount of Gelber Traminer on the best terraced sites along the Danube River in Stein and Krems. Today, seventh generation Dr Bert Salomon and his wife Gertrud are the custodians of almost 230 years of winemaking history.
Matching each grape variety with the right soil and climate has always been the main focus of Salomon's viticultural efforts. Loess soils offer optimum conditions for the Grüner Veltliner planted on the Lindberg Erste Lage site, while the urgestein (primary rock) soils in the Erste Lage vineyards of Kögl and Pfaffenberg are ideally suited to Riesling. These are the same soils as those of the Wachau, which borders Stein to the west.
All the grapes are harvested traditionally by hand only. These great vineyard locations coupled with meticulous work in both the vineyards and the winery result in a range of wines with great power and complexity, yet with lovely finesse and a striking mineral personality.