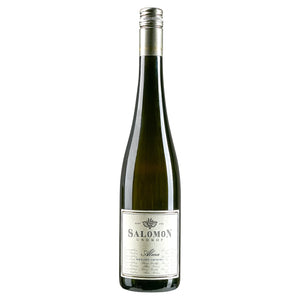 Variety: Riesling
Country, Region: Austria, Krems
Appellation: Kremstal DAC
Based on fruit from the Erste Lage Grillenparz vineyard, de-stemmed and whole-berry fermented (that is, with the skins and seeds) in three Georgian amphoras for five months. Vinified without sulphur and only given a small amount at bottling.
2018 review 'The 2018 Riesling Amphora Alma (literally: anima, soul) was fermented on the mash for six months and is entirely based on the free-run must. Sulfured only after the second racking, the 2018 opens with an attractive quince bouquet on the nose, whereas the palate is juicy and aromatic but also filigreed like a Mosel Riesling, possibly also some delicate residual sweetness. Very pleasant and again with quince and apricot aromas. A delicious "light" wine from the Kremstal. Bottled with 13% alcohol that is well hidden. Tasted in September 2019. Drink 2020-2030.' 92 points, Stephan Reinhardt, The Wine Advocate, April 2020.
'Salomon Undhof is a flagship of Austrian wine history ... White wines from some of the best Grand Cru sites along the Danube have been produced here for 230 years, including well-known vineyards such as Ried Steiner Kögl, Ried Pfaffenberg, Ried Wachtberg or Ried Lindberg. Thanks to Bert Salomon, the winery today mainly stands for excellent dry Rieslings and Grüner Veltliner - long-lasting, elegant wines for which the house is famous.' Peter Moser, Falstaff Wine Guide, October 2022.

Founded in 1792 Salomon Undhof is a wine estate with a long tradition. The Salomon family own 20 hectares of vineyards which are planted with equal amounts of Riesling and Grüner Veltliner as well as a tiny amount of Gelber Traminer on the best terraced sites along the Danube River in Stein and Krems. Today, seventh generation Dr Bert Salomon and his wife Gertrud are the custodians of almost 230 years of winemaking history.
Matching each grape variety with the right soil and climate has always been the main focus of Salomon's viticultural efforts. Loess soils offer optimum conditions for the Grüner Veltliner planted on the Lindberg Erste Lage site, while the urgestein (primary rock) soils in the Erste Lage vineyards of Kögl and Pfaffenberg are ideally suited to Riesling. These are the same soils as those of the Wachau, which borders Stein to the west.
All the grapes are harvested traditionally by hand only. These great vineyard locations coupled with meticulous work in both the vineyards and the winery result in a range of wines with great power and complexity, yet with lovely finesse and a striking mineral personality.