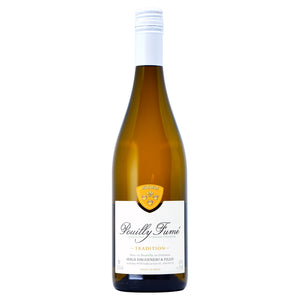 Variety: Sauvignon Blanc
Country, Region: France, Loire Valley
Appellation: Pouilly Fumé


100% Sauvignon Blanc. This is the main cuvée at this estate, coming from a number of different parcels in the village of Saint Andelain close to the Loire, all planted on Kimmeridgian marl. Vinified in stainless steel and aged on fine lees until bottling.
Serge Dagueneau & Filles
This branch of the Dagueneau family headed by father Serge is based in Saint Andelain and owns 19 hectares of old vineyards across several of the prime sites of the appellation. Today the estate is run by Serge's daughter Valerie, a cousin of the late Didier Dagueneau, although Serge is now retired he still helps out in the vineyard.
While the calcareous soil in the vineyards give the wines ample structure and the ability to age gracefully, the vineyards of Pouilly Fumé typically have more clay and depth than the poorer more chalky soils of neighbouring Sancerre. This is particularly so in the prime area of Saint Andelain where most of the family's vineyard holdings are located.
Here the wines still show clear and intense varietal Sauvignon Blanc character but the heavier soil adds texture and generosity to the palate. Whilst this does give them immediate appeal, with 5 to 10 years bottle age they take on a honeyed richness reminiscent of white Burgundy.
The work in the vineyard does not have certified organic or biodynamic status (though some vineyards are trialing bio-dynamics as of 2018) and their work is perhaps best described as viticulture raisonnée. The soils are partly planted with cover crops, and partly ploughed, and the family have reduced their dependence on herbicides, in recent years. Today there are 18 ha planted to Sauvignon blanc in the Pouilly Fume appellation and roughly 1 ha planted to Chasselas for the Pouilly sur Loire appellation. These particular vines are ancient, aged more than one hundred years, and they are propagated by the age-old method of marcottage. Most of these vines are planted on Kimmeridgian marl, one of the classic terroirs of both appellations.
The Dagueneau's also have an old 100% Chasselas vineyard in Pouilly-sur-Loire which was planted just after phylloxera struck in the late nineteenth century. Located beside an old Roman cobblestone road on the route to Paris, this remarkable vineyard is now over 120 years old.
These prime vineyard sites located on the banks of the Loire River have been rewarding travelers with wonderfully refreshing wines for many hundreds, if not thousands, of years.