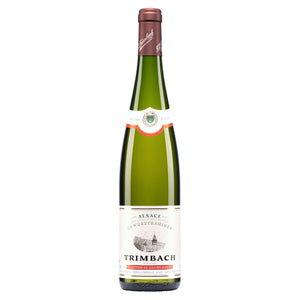 Practising Organic
Variety: Gewurztraminer
Country, Region: France, Alsace
Appellation: Alsace Selection de Grains Nobles (SGN)


'The intensely golden-yellow 2008 Gewurztraminer Sélection de Grains Nobles 'Hors Choix' opens with a fascinatingly pure, fresh, precise and concentrated, exotic and elegant nose. It has perfectly ripe peach, buttercup, ginger and lime-zest flavors intermixed with spicy and peppery aromas. Full-bodied, round and highly delicate on the palate, this is a concentrated, firmly structured, fresh and complex sweet wine with fine tannins and a long, fresh and mineral finish. The 2008 'Hors Choix' was bottled with 13% alcohol and is a great, tension-filled and spicy gastronomic sweet wine with terrific grip and stimulating freshness. The 2008 drinks nicely today, but can be aged for decades. Drink 2017-2060.' 97 points, Stephan Reinhardt, RobertParker.com, July 2017.
'Trimbach is at the summit of dry white winemaking.' Clive Coates M.W.
'Clos St Hune, the Alsace Riesling by which all others are judged.' Andrew Jefford.
With viticultural origins going back to 1626 this family owned estate produces some of the finest wines not only of Alsace, but indeed the entire world of wine. Around the villages of Ribeauvillé and Hunawihr, the Trimbach family owns 27 hectares of vineyards including 1.67ha of Rosacker Grand cru (which produces the highly famed Clos Sainte Hune Riesling) as well as parcels of Geisberg and Osterberg (blended to make the equally renowned Riesling Cuvée Frédéric Emile). Geisberg and Osterberg are located on the hill rising up behind the 'new' family winery on the edge of Ribeauvillé. The family moved from their 'old' winery in Hunawihr in the 1890's! Indeed, the label of Clos Sainte Hune depicts the view to the local church from the old winery in Hunawihr.
According to Jean Trimbach, the house style is aiming for 'harmonious wines that are concentrated, not heavy; fruity, not sweet; bracing rather than fat; polite rather than voluptuous.' To that end, fermentations are cool and slow, maloloactic fermentation is not carried out and the wines are bottled early to retain freshness.
The dry Rieslings are usually made with less than 5g/l of residual sugar, whereas the dry Gewürztraminers might carry up to 10g/l. The wines are then aged in the cellar for at least one year; up to 5 years or more for the top wines. Even the richer Vendanges Tardive and Selection de Grains Nobles wines are made with more restraint than is usual in Alsace more generally: VT Rieslings typically carry 15-40g/l; VT Gewürztraminer around 50-75g/l; and SGN typically from 100g/l.