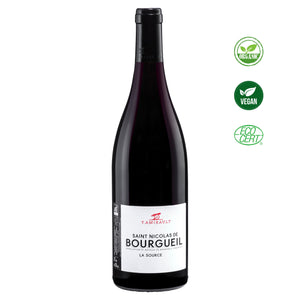 Certified Organic (Ecocert)
Variety: Cabernet Franc
Country, Region: France, Loire Valley
Appellation: Saint-Nicolas-de-Bourgueil

Produced from vines planted mostly on sandy soils with an average age of 30+ years, this wine is vinified in tank and aged in large 'tronconic' barrels designed specially in this area. The wine is loaded with perfumed cherry and red-currant fruit along with generous hints of spice, white pepper and even chocolate. This is a perfumed and supple wine that is perfect for drinking on its perfumed and fleshy primary fruit.



'Yannick and Benoît make a simply marvellous array of wines, vibrant and perfumed yet dark and confident at the lower levels, the wines from the more sandy soils, while those from the limestone terroirs sitting up above the alluvial terrace are capable of much greater things, given ten or fifteen years in the cellar. These aren't just wines to challenge those made in Chinon. Nor are these wines about which we should enthuse solely in the context of Bourgueil and St Nicolas de Bourgueil. This domaine, I believe, turns out some of the very best red wines in the entire Loire Valley. Overlook them to your disadvantage.' Chris Kissack, The Wine Doctor, January 2018.

Bourgueil is located west of Tours in the western part of the Loire Valley. Bourgueil is situated on the northern side of the Loire, across the river from Chinon, and represents one of the northern-most appellations for growing red grape varieties in France. There are a variety of soil types here with the biggest and most cellar-worthy wines generally coming from the best vineyards on the slopes located further away from the Loire to the north and north-east of the town of Bourgueil. The vineyards on the flat gravelly river soils closer to the Loire yield wines which are usually aromatic, elegant and earlier to mature.
Amirault has about 13 hectares of vineyard holdings in Bourgueil, mostly located on, or just at, the base of these slopes to the north and northeast of the village of Bourgueil. Yannicks son Benoit now runs the estate and like his father he has chosen to work organically in the vineyards and is certified organic (Ecocert). All vinifications are made with indigenous yeasts with minimal SO2 and ageing takes place in a mixture of large tronconic oak vats, larger demi-muid barrels and increasingly in clay amphora. Extraction is long (up to 6 weeks) yet very gentle. All wines are bottled unfined and unfiltered.